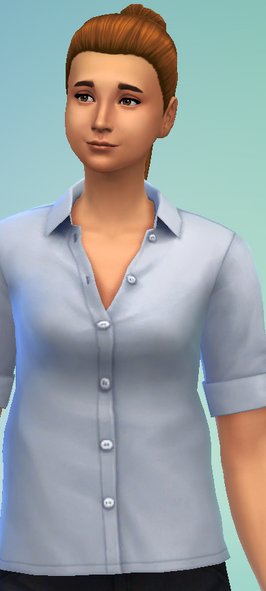 Andrea Archer
Basic information
Birthdate: July sixth, 1990
Magical species: Powerless-Witch
LIfe status: Alive
Relationship status: Married
Nicknames and other names
Andrea Cruz- maiden name
Andi- by everyone 
Parents
Kira Cruz+ (Real mother) 
Liam Cruz+ (Realm father)
Maria Alonso+ (former foster mother)
Francisco Alonso (former foster father)
Aunts
Jean Cruz+
Siblings
Emma Novoa (former foster sister)
Children
Ethan Archer 
Kira Archer 
Grandchildren 
Hope Archer
Phillip Archer
Chance Archer
Romances
Luke Archa aka Phillip (Husband.)
Friends
Diego Rueda
Emma Novoa
Kaitlyn Rice 
Jax Novoa
Gigi Rueda
Madelyn Rueda
Kimberly Sander
Daniel Miller- formerly
Ruby Fletcher- semi-friend
Education
Iridium elementray school (1994-2004)
Iridium high school (2004-2008)
W.I.T.S Academy (2016-2020)
School team
Swim team
Occupation 
Employee at the Seven (in high school)
Stay at home mother- currently
Residence
Mortal realm- Miami- currently 
Magic realm- W.I.T.S Academy- formerly
Magic realm- the forbidden land- formerly
Background
Andi was born to Liam and Keria Cruz who both died of cancer when she had been three years old. She was placed in the care of family friends known as the Alonso family- Francisco, Marah, and their biological daughter Emma. She lived happily and loved with them until the age of ten when Marah's death occurred. With her foster father being unable to provide and care for her- Andi was placed in the care of her late father's sister Jean Cruz.
Every witch pregnancy
"We set ourselves up for bad things, we don't mean too, but we do" Andi- her friends
Andi's underage pregnancy
Andi hadn't bothered with birth control since her boyfriend was a zombie. In the first chapter, Andi was shocked and confused when she found out she was pregnant. She also gained the news that her child would be the first of a new species since no other zombie had ever reproduced before. She didn't know what to make of this.
In the second chapter, Andi had to tell her aunt about her pregnancy after Phillip randomly blurted out she had a zombie baby. Jean said she believed Andi was mature enough to handle this on her own and would support her choice.
Andi's relationships
Phillip was originally a virtual zombie Andi had created in her video game. She had grown found of him and freaked out when Emma's boyfriend Jax was about to accidentally kill him. To save him, Emma brought him to life and had allowed Andi to keep him because Andi had fallen in love with him. Andi was keeping him hidden from the council.
In the first chapter, Andi tried to explain with Phillip that she was pregnant but he thought she was talking about Pizza. Andi got up to get him some more pizza and Phillip stopped her. In just a few words, he clearly showed he did understand enough that he and Andi were having a baby together. Phillip tried making-out with her at the club but Andi stopped knowing Phillip thought making-out meant they were going to sleep together and she didn't want him to take his or her clothing off in public. In the second chapter, Andi asked Phillip if he still wanted the baby and if he knew what it meant. Phillip replied yes and explained what being a father meant.
In the first chapter, Emma had wanted to get her pregnancy confirmed with Andi by her side, but couldn't because she had promised her cousins to support them while they supported her as they got their pregnancies confirmed. When Emma did find out about Andi's pregnancy, she was just as shocked as Andi was. Emma told Andi she was also pregnant and when Andi said she was sorry, Emma jokingly replied that she had nothing to be sorry for since she hadn't been the one who knocked her up.
It wasn't often that Emma and Andi fought or even argued, in fact, it was extremely rare. In the third chapter, they had an argument. Andi shared with Emma that she was keeping her baby and Emma agreed she'd be a good mother. Emma then told Andi that she was keeping her unborn child as well and was shocked that Andi didn't instantly agree. Emma was then offended by Andi when Andi pointed out that being a single mother wasn't going to be easy and that for Emma's dad it had been different because he had only become a single dad when Emma had been old enough to look after herself. Emma started giving Andi a hard time about who would look after her baby and that Phillip might try to eat the baby. They then quickly let go of their argument when Emma pointed out the risk of the council finding out about Phillip and the baby. Emma promised to help Andi keep him safe and Andi replied that she already was.
In the fourth chapter, Andi was staying with Phillip at all times while he was in hiding. Eventually, Emma had to step in and convince her to go to school before she lost her mind in that small cabin waiting for disaster to happen. After Phillip was captured and Andi was brought to Emma's house, Andi yelled at Emma for having insisted she attend school that morning.
Diego and Andi became friends when they became teammates. In the first chapter, Andi confided in Diego about her pregnancy and about her fears of the council finding out and capturing Phillip. Diego ensured her she had an army behind her that included him. In the fifth chapter, Andi asked Diego about any openings at the club he works at. Diego got Andi an interview with his dad and dropped by her house to tell her.
In the eighth chapter, Andi asked Diego if they were still friends despite no longer being teammates. Diego tells her that even though they became friends by being teammates, they don't have to be teammates to be friends. Andi then learns that Diego gave up his automatic spot on the following school year's swim team so she could have it because he knows how much being on the team means to her and why. Andi was so happy she even squealed and hugged him.
In the sixth chapter, when helping Andi move into her new apartment, Maddie noticed she looked down and asked her if she was okay. Andi told her about what she had pictured her life being like when she had told Phillip she was pregnant. Maddie told her that what happened wasn't okay because no one should have the person they love most ripped away from.
It didn't seem like Jax and Andi were even friends. However, after Andi lost Phillip it became clear that these two were a lot closer that we had thought. Jax looked after Andi for Emma and managed to convince her to eat by serving her chocolate cake with strawberries knowing this was her favourite desert. He tried cheering up her up by playing her favourite video game with her not realizing it was the game Phillip is from. He then comforted her with a hug when she started crying. Andi confined in Jax about about her fears and Jax ensured her the council would leave the baby along and Phillip would be reunited with her. Jax later on helped Andi move into her new apartment.
Andi's relationship with the group
The first time the whole group hung out was in the second chapter during a school lunch period. Maddie was already going to eat with Katie- along with Sophie- and Diego had asked her to invite Gigi to join so she did. She bumped into Emma and Andi outside the cafeteria and decided to invite them to her lunch party and they accepted. Andi talked with the girls about their so far baby decisions and got to see Gigi punch a girl in the nose for calling Maddie a slut. Gigi said she had done it for them all.
In the third chapter, Katie had invited all of the pregnant girls to her house. They hung out in her bedroom and talked about who the temporary guardians of their children would be. In the next chapter, Emma hosted a sleepover with the pregnant girls at her house but there wasn't a whole lot of talking as they went to sleep pretty early on.
In the fourth chapter, Emma helped Maddie and Andi hide Phillip in an abandoned cabin in the woods and stayed with him while Andi attended a swim meet or practice. After being informed by the council that Phillip had been captured, Emma along with Maddie went looking for Andi who they found in the cabin unconscious. Emma and Maddie brought Andi to Emma's house where she'd be safe.
In the sixth chapter, Emma along with Maddie, Jax, Diego, and Daniel, helped Andi move into her new apartment. Also in this chapter, she attended Maddie's sleepover with the other pregnant girls and they talked about personal things. Gigi said they were becoming connected but not exactly as friends. In the seventh chapter, the girls started hanging out in order to become friends. In the next chapter, Emma broke into the council building with the other girls in an attempt to steal Phillip's case file which she didn't find. They were caught by Ramona but Emma managed to talk them out of trouble. Later in the chapter, Emma and the other girls had a sleepover and they each said something about their newfound friendship. Andi said, "You make me feel like I'll always have something,"
Loosing Phillip
In the fourth chapter, Andi is told by Lily that the council know about Phillip and she needs to hide him. Andi bumped into Daniel and told him what was going on. She was told by Daniel to hide Phillip in an abandoned cabin the woods to be extra safe. She did this with the help of Emma and Maddie. Andi was later told by the council that Phillip would be captured. When Andi got a bad feeling she couldn't shake off, she went to check on Phillip and discovered he had been captured. She cried hysterically and screamed for him. She then passed out.
Andi was found by Maddie and Emma and was brought to Emma's house where she was woken up by Francisco when he poured a glass of water on her face. Andi quickly fell into a depression that last a couple of chapters (months.) She was staring at walls and she wasn't eating anything or talking to anyone.
The birth of her son
Andi gave birth to her son Ethan in the final chapter. It had been a very long delivery that had ended in an emergency C-section. She made him a promise to love him and to reunite their family.
Andi's quotes
Every witch pregnancy
"I try to remember younger Maddie and how she wasn't so bad, but sometimes your cousin makes it impossible." Andi- Em
"I've kept some of it in the back of my mind, buried the rest deep down." Andi- Emma
"My dad used to tell me when there's a problem, fix what I can control and leave what I cannot." Andi- Gigi
"We set ourselves up for bad things, we don't mean too, but we do" Andi- her friends
"I just have this feeling that he's going to be the one who helps Phillip find his way home" Andi- Emma
"Phillip used to call everyone Ethan if he didn't know them, that's why Ethan's the perfect name for our son" Andi- Katie
"You make me feel like I'll always have something" Andi- friends​​​​​​​
"My mom said she loved me, Maria said she loved me, both are gone. Now, I'm going to love you, my son, even if it kills me" Andi- Ethan