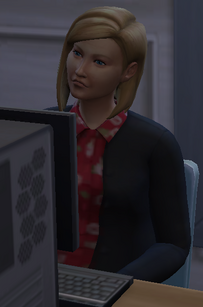 Ava Rueda
Basic information
Age- unknown
Birthday- unknown
Species- Full-Witch
Status- Divorced
LIfe status- Alive
Missing- formerly
Husband and Children
Ex-Husband- Drew Rueda 
Daughter- Ruby Fletcher
Daughter- Gigi Rueda
Son- Diego Rueda 
Daughter-in-law- Maddie Rueda
Grandchildren
Melanie Rueda (by adoption.)
Robert Rueda (by adoption.)
Emily Rueda (by blood.)
Shawn Rueda (by blood.)
Tommy Rueda (by adoption.)
Isabella Masters (by blood.)
Anabella Masters (by blood.)
Noah Masters (by blood.)
Mason Masters (by blood.)
Great-grandchildren
Hope Archer 
Shane Rueda
One unborn 
Romances
Deceased Unnamed man- Ex-husband
Drew Rueda- Ex-husband
Occupation
. Principal of Iridium high school (mortal job.)
. Head member of the council (Magic job.)
Resides in
. The mortal realm
. Miami
Side
Andi's side
Introduction
First appearing in Every witch pregnancy, Ava went back and forth from being a main character and a recurring character. She is known for being quite strict and not taking anyone's crap. She also has a very interesting background that came with plot twists as it was explained.
Background Information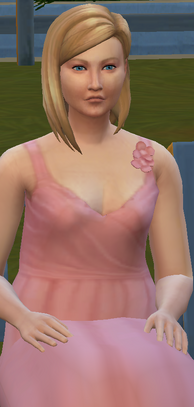 In Every witch pregnancy, it was mentioned that Ava had a past that no one knew about, and no information about that past was given in this book. Expect, it was mentioned that Ava had in the past helped Emma with her chosen one responsibilities which were suspicious and not explained. It brought up the questions of why did she and how was she able too? This could have been a hint about something in her secret past. All we did know for sure was she had married a Kanay named drew and with him had fraternal twins named Diego and Gigi. We also knew that she had homeschooled her children as she didn't like the way schools were run, however, she allowed Gigi to attend a private all-girls school from the ages of eleven- fourteen and then became the principal of Iridium high school so both of her children could attend a public high school.
In every witch student: Welcome back to the Academy, we finally learn about Ava's past. At eighteen years old, Ava had been the chosen one before Emma until she married a mortal and as punishment was stripped of her powers and chosen on status by order of the council. Ava may or may not have known at this point that she was pregnant with a child. She never told the father because he decided to divorce her knowing losing one's magic is the most shameful and depressing thing that had can happen to a witch and he didn't want Ava to suffer just to stay with him. Ava decided to put the baby up for adoption and the reason for this wasn't explained in this book. Ava- at the age of nineteen- had given birth to a daughter in February of 1989 who was adopted by Duggie and Kristine Fletcher. The daughter was named Ruby and Ava never had any contact with her. 
After the divorce, Ava was given her magic back but not her chosen one status. The reason was that she had already fallen in love with a Kanay and it was forbidden for chosen ones to wed or mate with any species aside from a full-witch or full-wizard because of the dangerous lifestyle. Just months later, Ava was married to the Kanay named Drew Rueda and was pregnant with a set of twins. In March of 1990- the month after Ruby's first birthday- Ava and Drew welcomed their fraternal twins: their daughter Gigi Rueda and their son Diego Rueda.
Every witch pregnancy
"Keep it up Gigi, and you two will be spending the rest of your teenage years changing diapers," Ava- Gigi
Dealing with Maddie and Gigi's pregnancies
Ava wasn't happy but didn't yell or punish her children when she found out they were going to be parents at just sixteen. She mostly allowed them to handle the pregnancies on their own. Of course, she still parented them keeping them in line for the most part.
Every witch student: Welcome to the Academy
"I'm sorry it took so long for us to meet," Ava to Ruby
Reuniting with Ruby
Ava returned to the series towards the end of chapter five when she was called and confronted by her grandchildren about having given a baby up for adoption twenty seven and a half years ago. Ava took a long time to respond to the question and could be heard breathing deeply over the phone. When she was ready to speak she told the children "we need to talk." It was clear at this point she was hiding something and it was already pretty clear that Ava was Ruby's biological mother thought it was not actually confirmed by Emily to Ruby until the following chapter.
In chapter six, Ava knew she had to tell her husband and her other two children. She was very nervous about and was scared there were going to judge her for having given Ruby up for adoption. She was relieved to have such a good family as her husband and their children- Diego and Gigi- listened and were supportive of her. She asked by one of her children if she was going to meet Ruby. Ava replied that she needed some time before making that decision.
In chapter eight, Ava had been invited to Ursula's Christmas Eve party and it isn't known if she had been the one who had asked for Ruby to also be invited. She attended the party knowing the daughter she had given up so many years before may also be attending. When she had come face to face with Ruby during the party, Ava had taken a deep breath and let down a tear. She then approached her daughter. For a moment she just looked at her with a warm smile. They shared an emotional hug then Ava complimented Ruby by telling her she looked just like her father. The two then went into another room to talk in private and everything that had needed to be said was said. Ava and Ruby both agreed they wanted to have a relationship.
The full moon
Ava's wasn't immune to the effects of the full moon being a full-witch. However, she had gotten lucky as she hadn't been mentioned to have gone evil nor mad. Ava had also been the one to figure out the full moon was coming after full witches and wizards in both realms were feeling off. It was Emma she had called to warn and Emma had passed on the message.
The birthdays in February
Ava appeared twice in chapter ten. Early in the chapter, she made the trip to the Academy with Diego and Gigi to attend Ruby's twenty-eighth birthday- which was the first of Ruby's birthdays she had been able to attend. She later in the chapter attended the party for her long-lost adopted granddaughter's twelfth birthday that had doubled as her welcome home party. During this party, she obviously got to meet Melanie.
The big family day
In chapter eleven, Ava made another trip to the Academy for the event of the big family day. She had attended this event to visit her daughter Ruby and two of her three grandchildren- Shawn and Emily. She wasn't mentioned much during this event and it was known she was there as her arrival was mentioned. This was the last time Ava appeared in the second book.
Every witch student: Remember me
"If you truly want to understand how she feels put yourself in her shoes." Ava- Ruby
Holidays and Events
It wasn't clear if Ava had attended Ursula's Christmas Eve party in chapter three. The following day we do know for sure that she celebrated Christmas with her three children and three grandchildren as well as with her husband and Maddie. In chapter six, Ava went to the Academy for her daughter Ruby's twenty ninth birthday.
Other appearances
In chapter five, Ava had Emma over at her house for a visit when Jax came in with Andi who had lost her memory. Ava believed Andi had fallen through the portal on perpouse wanting to loose her memory to forget everything bad going on in her life. She solved the problem by giving Andi a memory potion that completely restored her memory.
In chapter nine, Ruby surprised Ava by going to see her at her house. Ava was quite happy to have a visit from her daughter despite the fact that Ruby couldn't stay long. Ruby had come to visit her mother because she wanted to know how Emily was feeling about being stripped of her magic. Ava told her to put herself in Emily's shoes and Ruby took this advice quite literally.
Every witch student: Missing
"You're not fooling anyone with those outfits. You just look stupid." Ava- Diego and Gigi
In the first chapter, Ava had attended Emma's meeting regarding her daughter and grandson. She seemed worried that they were missing. In the second chapter, Ava was very emotional when reunited with her daughter Gigi who had been missing for two months. Later in the chapter, Ava was making a racket in her office and her worried children came in to check on her. Ava stated she had been trying to catch a rat all day- a rat that Emma had no trouble catching. While talking with her children, she suddenly vanished in thin air. She was later in the chapter declared to be missing and didn't appear again in the fourth book.
Every witch student: The rescues and take down.
"You're smart Emma. Listen to your heart, brain, and instincts, and you'll know what to do." Ava- Emma
Ava was found by Emma in the ninth chapter. Right away she wanted to return to her normal routine and didn't seem to have been affected much by how much time she had been away. In the next chapter, it was Ava who figured out that Emily had been compelled to have sex which had resulted in a pregnancy. She was not happy knowing her teenage granddaughter was pregnant especially because she had been compelled to lose her virginity. Ava appeared here and there throughout the remainder of the fifth book. In chapter twelve she fought on Emma's side and became the head member of the council.
Every witch teen: Secrets, Crushes, Struggles
"Oh, I'm not surprised since you know everything about life, right?" Ava- Emily
Personality
Ava was still quite strict and never took anyone's crap. She also chose to remain supportive of her family members despite their stupidity and mistakes. She appeared to be very loving and playful when it came to the little members of the family.
Throughout the book
Ava appeared at all of her family suppers as she was the one who hosted them in her home. She was also often heard on the PA system at the high school giving the announcements. In the third chapter, Ava went to the hospital to meet her great-great-granddaughter Hope on the day she was born.
In the tenth chapter, Ava announced to her family members that she and her husband were getting divorced because there was nothing between them anymore. She also learned on that day that her young teenage grandson Shawn was soon going to become a father as his girlfriend Rose was three-months-pregnant. In the twelfth chapter, Ava's divorced had been finalized and she didn't appear to be too upset over it.
In the twelfth chapter, Ava had joked to Diego and Maddie that if they left their rebellious teenage daughter Melanie with her for a week, Melanie would be straightened out. Diego and Maddie took her up on that and left Melanie with her for the entire spring break. Ava didn't take Melanie's crap and did seem to have made progress with her by the end of the week. During that week, Ava had also risked exposure of Magic when teleporting Melanie to her without thinking that Melanie could have been in the presence of one or more mortals who didn't know about the existence magic- Being the head member of the council, Ava had could have been in serious trouble for breaking this law though thankfully was not.
In the thirteenth chapter, Ava had to expel Melanie from school after Melanie broke another student's nose. She did tell Melanie's parents that she was positive she could use some magic to erase the incident. It wasn't known what happened, but in the following chapter, Melanie was back in school.
In the fourteenth chapter, Ava hosted an assembly at the high school about the harassment towards the teenage parents. She threatened that if anyone said or did anything to insult the teenage parents for being teenage parents, they would be automatically expelled from school. Ava wasn't mentioned to have had expelled anyone. Also in this chapter, Ava attended the fifteenth birthday party of her grandchildren Shawn and Emily.
In the seventeenth chapter, Ava found out that her fifteen-year-old granddaughter Emily was pregnant with her second child. She told Emily that it didn't surprise her because she knew that Emily believed she was all grown up and knew everything about life. This had been said sarcastically as Ava wasn't happy at all about the pregnancy. However, because of her values and rules about family, Ava decided to support Emily. Also in this chapter, she was at the hospital when her great-great-grandson Shane was born, and the following day may have taken part in Hope's first birthday celebration.

Ava's Relationship
Ava and Drew
"Drew and I are getting divorced." Ava- her family
In previous books not much has ever been really known about Ava's relationship with Drew. In the sixth book, we see it come to an end. In the fifth chapter, Ava rolled her eyes when Drew announced he was going to start playing golf because he isn't good at sports.
Ava and Ruby
"I was once young and stupid. I know because I didn't keep you." Ava- Ruby
In the sixth book, Ava and Ruby's relationship didn't really change but they did spend way more time together then they had in previous books. In the second chapter, Ava was excited to learn that Ruby was pregnant.
Ava and Diego
"Now why do I have the feeling you had something to do with this?" Ava- Diego
In the sixth book, Ava and Diego's relationship was the same as in previous books.
Ava and Gigi
"Keep it up Gigi, and you two will be spending the rest of your teenage years changing diapers." Ava- Gigi and Pete
In the sixth book, In the fourth chapter, Ava decided to support Gigi's choice to let Pete back into her life even though she didn't agree with her.
Ava and Cameron
In the sixth book, Ava had forgiven Cameron for what he had done to Emily. She even invited him to her family suppers though it took a while before Cameron actually started attending them.
Ava and Maddie
"I don't hate you Maddie. I don't' hate the baby either." Ava- Maddie
In the sixth book, Ava and Maddie's relationship hadn't really changed all that much.
Ava and Pete
"Second chances are meant for people who learned from the first time." Ava- Gigi
In the sixth book, Ava was not at all happy that Pete had come back into Gigi and Shawn's lives. However, when around him, Ava was polite and treated him like a member of the family. She was also the one to ask where he was the time he didn't show up though wasn't upset to hear that he had left Gigi again.
Ava and Emma
"You're smart Emma. Listen to your heart, brain, and instincts, and you'll know what to do." Ava- Emma
In the sixth book, Ava and Emma were still on good terms. They mostly communicated when present at parties together.
Ava and Melanie
"I don't want your crazy disastrous inventions here. I rather like this house being in one piece." Ava- Melanie
In the sixth book, Ava didn't take Melanie's crap.
Ava and Robert
"That boy just got up and left without a word." Ava- Gigi about Robert
In the sixth book, Ava easily welcomed Robert into the family.
Ava and Emily
"Oh, I'm not surprised since you know everything about life, right?" Ava- Emily
In the sixth book, for the most part, Ava and Emily were on good terms. However, when Ava wasn't happy with Emily she wasn't afraid to let her know.
Ava and Shawn
"Don't you dare tell me what I think you're going to tell me!" Ava- Shawn
In the sixth book, Ava and Shawn were usually on good terms.
Ava and Tommy
In the sixth book, Ava easily welcomed Tommy into the family.
Ava and Isabella
In the sixth book, Ava loved seeing little Isabella at the weekly family suppers. She would always greet her with a hug.
Ava and Anabella
"Why in the devil would you want to know that?" Ava- Anabella
In the sixth book, Ava loved seeing little Anabella at the weekly family suppers. She would always great her with a hug.
Ava and Hope
In the sixth book, Ava didn't have much of a relationship with Hope since she didn't spend much time with the baby. In the third chapter, Ava met Hope on the day of her birth and called her a little Angel.

Quotes (EWP)
"If I have to hear this damn argument one more time I'm gonna make you build a second bathroom!" Ava- Diego and Gigi
"Don't be stupid Gigi he's not going to stay" Ava- Gigi
"Oh but I do because I'm this little person called...oh what was my title again? Oh that's right...the principal," Ava
"Alright wise ass, detention after school for the rest of the month." Ava- Jax
"Now why do I have the feeling you had something to do with this" Ava- Diego
"Why are you being so quiet tonight, have you and your brother gotten into another stupid fight?" Ava- Gigi
"Hate to burst your bubble but I don't follow you." Ava- Gigi
"I promise I'm not going to let you fail, as long as you keep trying." Ava- Katie
"I don't hate you Maddie, I don't' hate the baby either." Ava- Maddie

Quotes (Every witch student: Welcome to the Academy.)
"I'm not sure yet...I need some time to think." Ava- Gigi and Diego.

Remember me
"Falling through the portal is rare. I think maybe she wanted to loose her memory." Ava- Emma
"If you truly want to understand how she feels put yourself in her shoes." Ava- Ruby

Missing
"Sorry, this darn rat has been driving me crazy." Ava- Diego and Gigi
"You're not fooling anyone with those outfits. You just look stupid." Ava- Diego and Gigi

The rescues and take-down
"You can't even say hi before barging in here announcing my young teenage granddaughter is pregnant yet doesn't remember sleeping with anyone!" Ava- Emma
"It's been a very messed up year and it's only march." Ava- Diego
"Change nothing and nothing will change." Ava- Emma
"You're smart Emma. Listen to your heart, brain, and instincts, and you'll know what to do." Ava- Emma

Secrets, crushes, struggles
"You shouldn't keep her away from other children. You need to treat her like a normal kid." Ava- Andi about Kira
"Second chances are meant for people who learned from the first time." Ava- Gigi
"That boy just got up and left without a word." Ava- Gigi about Robert
"Oh. Isn't that just great!" Ava- Shawn after learning about Rose's teenage pregnancy
"Want some more great fantastic news?" Ava- her family
"I don't want your crazy disastrous inventions here. I rather like this house being in one piece." Ava- Melanie
"Oh I'm not surprised since you know everything about life, right?" Ava- Emily