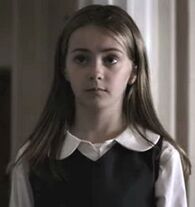 Claire Dale 
Age- 14
Birthday- 2004
Species- full witch
Relationship status- single
Life status- Alive
Not missing
Family
Mother
Father
Elizabeth Dale- older sister
Sienna Dale- younger sister
Mike Dale- younger brother
Hayley Dale- younger sister
Progam- witch in trainning
Year- four
Academy Guardian- Bridget 
GRADUATED
Residence 
Magic realm
W.I.T.S Academy- 2014- 2018 
Introduction
Claire was a mean unimportant recurring character introduced in the second book chapter two- "When Jessie wants revenge." Claire comes from a big family and is the second eldest child and daughter.
Every witch student: Welcome to the Academy
"Mom said we had to make sure you got a good team so yeah ok we know now whatever" Claire- Sienna
Personality
Claire was a third year witch in training in the second book- and she was first introduced in the second chapter. Through the book she was twelve- thirteen years old. Claire was a mean child at least to her younger sister Sienna as it wasn't really known how she treated others. She was pretty spoiled rotten and was the center of her parent's pride and attention. Claire was mostly known for her jealousy towards Sienna after Elizabeth started helping her with her school work.
Appearances and information
Claire first appeared in early chapter two when she and Elizabeth joined Sienna in the cafeteria. Sienna introduced them to Kim and the boys and then Claire stated their mother had told her to make sure Sienna had a good team. After this she got up and left.
In chapter three Claire appeared when she gave Sienna a letter from their parents. Later on she asked Sienna how she had done on a test because she wanted to make sure she wasn't getting better grades her. Claire did not like the comment Sienna then made to her and grabbed her by her shirt collar to threaten her but was still was Kim and walked away. Claire was then in the magic show on parent's day making her parents proud.
In chapter five Claire was very angry at Elizabeth after learning Sienna had gotten a good mark because Elizabeth had helped her. She slammed a door in Sienna's face and started yelling at Elizabeth. In chapter seven Claire was turned by the full moon and was locked up in the gym where she was having a go at her younger sister.
Every witch Student: Remember me
In the third book Claire was a thirteen- fourteen year old fourth year witch in training. She was a recurring character.
Appearances
In chapter one Claire returned to the Academy on the first day of school to start her last year of magic training.

Relationships 
Claire and and her parents
Claire was her parent's favourite child and therefore got most of the attention. She didn't like it when her siblings got their attention either. For example in chapter three when they asked Sienna how she had been doing, Claire answered for her sister saying she was pretty slow just to get the attention back on her.
Claire and Elizabeth
In the second book chapter two it seemed as though Elizabeth and her sister Claire got along and maybe hung out together. Claire often competed with Elizabeth for their parent's attention as they were both their parent's favourite. Although Claire didn't seem to mind as much when Elizabeth got their attention than when Sienna did.
In chapter five Claire didn't like it when Sienna got a high mark because Elizabeth helped her. She was very angry at her.
Claire and Sienna
In the second book it was very obvious that Claire and Sienna hated each-other. At first it wasn't clear what Claire had against Sienna. The first time Claire was introduced she was very rude to Sienna and seemed to not care about her at all. Claire looked down on Sienna and believed she was the loser of the family because she had gotten her powers a year after the average age causing her to start her magic training and education a year late.
Claire and Mike
In chapter three Claire completely ignored her younger brother when he came to the Academy for parent's day.
Claire and Hayley
In chapter three Claire completely ignored her younger sister when he came to the Academy for parent's day.