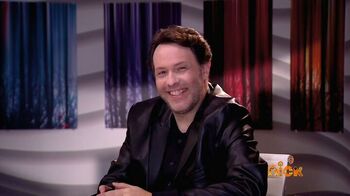 Douglas Fletcher 
Birthday- unknown
Age- 319+ 
Species:
. Powerless wizard-formerly
. Full wizard currently
Life status: Alive
Relationship stauts- Married
Nick name: Duggie
Missing
Family
Unnamed parents 
Aggie Fletcher- younger brother
Zora Fletcher- younger sister+
Kristine Fletcher- wife
Ruby Fletcher- adopted daughter 
Isabella Masters- granddaughter
Anabella Masters- granddaughter
Friends
Andi Cruz
Luke Archer
Ethan Cruz
Emma Alonso
Enimies 
. Desdemona
. Ramona
. New council member
. Aggie 
Ocupation
. Zombie saver 
Residence
Magic realm 
"You're uncle is a huge pain in the ass, time to eliminate him" Duggie- Ruby, Remember me
Personality
In Welcome to the academy, Duggie was very strict with his daughter. He took everything seriously and was very determined to complete his mission.
Back-ground information
At the age of eighteen Duggie was turned into the council by his younger brother after he created the first living zombie, the zombie that ate his younger sister Zora. As punishment his powers were removed. Some time in his adult life Duggie married his wife Kristine. At the age of 291 he adopted his daughter Ruby Fletcher and raised her in the magic realm with his wife.
Every witch student: Welcome to the Academy
Appearances
Duggie joined the series in chapter six of the second book. He was introduced to the academy students by his younger brother Aggie. At first the only thing known about him was that he was Aggie's brother, and he had come to the Academy to visit his brother after three hundred years of avoiding him. Not long after he had a private conversation with Kristine, who was still known as Mrs. Fuller at that point, and Ruby. It was confirmed at this point that Ruby was Kristine's daughter and it could be possible that she's also Duggie's daughter- and that was later confirmed by Ruby. During the meeting Duggie informed Ruby and Kristine that "He" was at the academy. It wasn't clear who he was talking about and it seemed to slip his mind anyways when he clearly didn't connect the dots when he learned the council feared a student named Luke.
When Ruby and Emily tel-transported Duggie and Andi to the dark river, it was revealed Andi had heard about him in her class because of his crime of creating the first zombie. We then learn he was a good guy as he gave Andi a bit of information to help her in her search for Phillip. However we wasn't able to give her an actual clue, though was about too, because they were seemingly under attack. Luckily, he and Andi were rescued by Ben and a bunch of other students by portal.