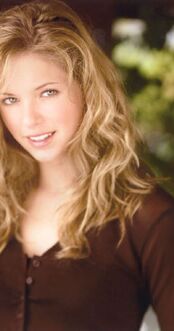 Elizabeth Dale 
Age: 16
Birthday: unknown
Species- powerless witch
Relationship status- single
Life status- Alive
Nick name: Lizzy
Not missing
Family
Mother
Father
Claire Dale- younger sister
Sienna Dale- younger sister
Mike Dale- younger brother
Hayley Dale- younger sister
Program- Guardian in training
Year- fourth
Academy Guardian of- Lauren and Neville 
Residence
Magic realm
W.I.T.S Academy- 2015- 2019
Introduction
Elizabeth Dale was an unimportant character first introduced in the second book chapter two- "When Jessie wants revenge." Elizabeth came from a pretty big family and was the eldest of her three sisters and one brother. She didn't have her own story line and was mostly known as Sienna's oldest sister.
Every witch student: Welcome to the academy
Personality
For the most part Elizabeth was an attention seeking teenager. She started being just as mean to her sister Sienna as their sister Claire was. However Elizabeth ended deciding to start helping Sienna and showed that was actually quite nice.
Apperances
It was known that Elizabeth was in her second year of guardian training at the academy. Her two students are known as Lauren and Neville. Throughout the book she has been mentioned to be helping them prepare for tests and races. Nothing else about her guardian life is known.
In chapter three Elizabeth appeared when greeting her parents on parent's day. In chapter five Elizabeth decided to help Sienna with her school work which led to Sienna getting a very high mark.
Every witch Student: Remember me
In the third book Elizabeth was a fifteen- sixteen year old third year guardian in training. She was a recurring character.
Appearances
In chapter one Elizabeth returned to the Academy on the first day of school to start her third year of guardian training. In chapter two Elizabeth asked Sienna if she needed help but Sienna replied she didn't. Elizabeth then told Sienna it was her turn to help Mike with his schooling and training.
Elizabeth's relationships
Elizabeth and Claire
In the second book chapter two it seemed as though Elizabeth and her sister Claire got along and maybe hung out together. In chapter five Claire didn't like it when Sienna got a high mark because Elizabeth helped her. She was very angry at her.
Elizabeth and Sienna
In the second book chapter two Elizabeth hadn't been mean to Sienna like Claire had. In-fact she hadn't said anything at all and didn't stand up for Sienna. It didn't seem like they had a good relationship. In chapter five Elizabeth shocked Sienna when she helped her with her homework. Sienna got a very good mark and ran to tell her sister who even hugged her!