Gracie Peace Rice
Age- 10
Born- April 13th, 2006
Species- full witch
Life status- Alive
Family
Maternal grandma- Natasha Rice
Maternal grandpa- Connor Rice

Father- Jordan Quintion
Mother- Katie Rice
Friends
Shawn
Ethan
Jessie
Emily
Ben 
Gaurdian
Katie Rice- temp
Enimies
Residence
Mortal realm
Miami
Things we know about her
. Had been given up for adoption before she was born but was kept by her birth mom because her adoptive parents backed out only days before she was born. 
. Is the smallest of her friends
Introduction
Gracie was one of the babies born into the series in the first book. She is a fan favourite like her mother because of her loving and gentle nature.

Her birth
Gracie was born in the last chapter of every witch pregnancy. She was born on April 13th 2006 at a hospital in Miami around half past two in the afternoon. She was the first of the babies to be born.She greeted emotionally by her mother and maternal grandparents.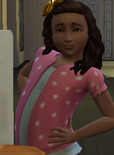 Every witch student: Welcome to the Academy
"Start digging, you might like what's buried under all the bad." Gracie- Ben
Being a witch in training
In chapter one Gracie started her magic training and education at the Academy. She was given her guardian- Luke Archer- and her teammate- Shawn Rueda.