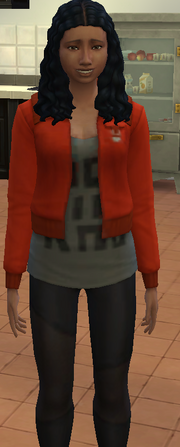 Kaitlyn Rice
Age- 29
Born-  August 1st, 1990
Species- powerless witch
Status- single
Nickname- Katie
Family
Father- Connor Rice
Mother- Natasha Rice 
Daughter- Gracie Rice
Romances
Jordan Quintion- rape
Friends
Maddie VanPelt
Sophie VanPelt
Emma Alonso
Diego Rueda
Gigi Rueda
Andi Cruz
Enemies
Jordan Quintion
School
unnamed grade school in New York (1994- 1998)
Unnamed grade school in Miami (1998-2004)
Iridium high school (2004-2008)
School team
Cheer leading-formerly
Residence
Mortal reaelm
New york- formerly
Miami
Introduction
Katie was a fan favourite for her loving and sweet personality, and she also shred us a lot of tears over her relationship with her daughter during tough situations. She was first introduced in the first chapter of the first book.
Background
Katie was born in New York, however, moved to Miami at the age of eight. Katie didn't take the move well as she was upset about leaving behind her friends, family, and house. Not long after the move, she continued third grade at a new school called Iridium elementary school. There she met her best friends Maddie and Sophie and was also- at the time- friends with Emma and Andi. A month before the first book started- she was raped by an adult man and fell pregnant.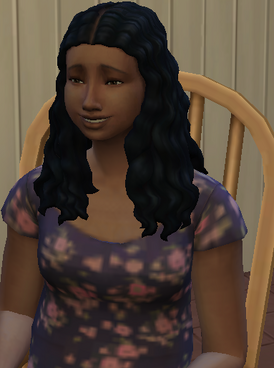 Every witch student: Welcome to the Academy
"Keep the ones who heard you when you never said a work." Katie-Gracie
Parenting
Katie had a very hard time letting go of her daughter when she dropped her off at the Academy. In chapter two Katie told Emma that she always worried about Gracie and always wanted to go check up on her. When Emma asked why she didn't, Katie replied that parents needed to step back and let their children experience things on their own since that was part of growing up. Katie did visit Gracie many times and it was always very emotional for them when they greeted each other and when they had to say goodbye again. 
Events 
In chapter seven Katie was immune to the effects of the full being since she was a powerless witch. She was with Maddie and Sophie when Maddie announced to her husband that she was going to take over the world. With Sophie, Katie called Ursula and Emma to come deal with Maddie while Diego and Gigi tied her to a chair. Katie was then present at the council meeting. 
In chapter eight Katie attended Ursula's Christmas Eve party. In chapter ten Katie attended the birthday party of her best friend Maddie's adopted daughter Melanie. In chapter eleven, Katie participated in the big family day at the Academy. 
Every witch teen; Secrets, Crushes, Struggles
"You don't need a boyfriend anyways. No boyfriend, no chances of kisses going too far." Katie- Gracie
Appearances
In the third chapter, Katie celebrated her thirtieth birthday and met Hope at the hospital on the day she was born. In the seventeenth chapter, Katie celebrated her thirty-first birthday and met Shane at the hospital on the day he was born. She also appeared at other major events- such as Andi's wedding which she was a bridesmaid in.
In the tenth chapter, Katie started dating a guy and grew fond of his very young daughter. She noticed that her daughter seemed to have a problem and thought it was about the guy. When she talked to Gracie about it she learned Gracie was actually jealous of the guy's little girl. Katie went to see the guy to tell him Gracie needed more time, but the guy said that it was best to end the relationship if Gracie wasn't happy. Katie agreed knowing Gracie wouldn't be able to accept having a sibling. She was very sad over the breakup but managed to get over it rather quickly.

Katie's relationships
Katie and her grandparents 
Katie's grandparents were not happy to find out Katie was pregnant and tried to control the situation. However when she went to see them at Christmas they became supportive of her. 
Katie and her parents
Katie and her parents, Natasha and Connor, have a good relationship. Connor wanted Katie to get an abortion when he first found out she was pregnant and even offered to make the appointment, however Katie she didn't want an abortion. Natasha stated it was Katie's decision. After Katie scolded her parents for fighting all the time about her pregnancy she received an apology from both of them. She had their support for the remainder of her pregnancy. When she decided to keep her daughter after all, not wanting the baby to end up in foster care, her parents said she could stay with them for a while but would need to get a job and find her own place as soon as possible. Katie agreed to these terms and thanked her parents. 
Katie and Maddie 
"I once needed someone to tell me everything was going to be ok, and now it's my turn to tell you." Maddie- Katie 
Maddie and Katie met in the middle of third grade when Katie was a new student at the school, and they have been best friends ever since. In grade ten they were already best friends but became even closer as they went through their teenage pregnancies together. Maddie and Sophie were the first to find out about Katie's rape and pregnancy, after Maddie had been worried about her cause she was acting odd. Maddie supported Katie's first decision to have an abortion and her final decision of giving the baby up for adoption. Meanwhile Katie supported Maddie's choice of keeping her baby. When the adoptive parents backed out a few days before Katie's baby was born, Maddie told her it was going to be alright 
Sixth book: they had a good relationship. In the second chapter, Maddie told Katie how her mother believed she was happy about Emily being a teen mom. Katie seemed unsure that Maddie was being honest when she said that she was wasn't actually happy because of how Maddie had reacted when she had found out the news. Later on in the chapter, Katie agreed with Maddie that she should adopt another baby despite having possibly believed Maddie had been actually happy about her teenage daughter being pregnant at fourteen.
In the third chapter, Maddie celebrated Katie's birthday.
Katie and Emma 
"You have to remember that no life is perfect." Katie- Emma
In third grade when Katie was a new student, Emma had been the first to befriend her. They were good friends until Emma headed off to the academy. They lost touch and drifted apart. However in grade ten when Emma found Katie crying in the bathroom she offered to talk, Katie who still trusted Emma, opened up about her rape and pregnancy, and Emma revealed her pregnancy. The girls had an emotional supportive conversation then parted ways and headed back to class. Throughout most of their pregnancies they got together from time to time when Emma or Maddie arranged lunches and sleepovers for all the pregnant teenage girls. It was only in February, when they were seven months pregnant, when Emma and Katie became actual friends again. It happened during Emma and Maddie's attempts to have their friends befriend each other and Gigi to form one big group of friends, and Katie was Maddie's friend so she had been invited. 
Sixth book: these two were still very close and hung out often. In the third chapter, Emma celebrated Katie's 20th birthday with her and their friends.
Katie and Andi 
Andi and Katie became friends in the middle of third grade but stopped being friends the summer after eighth grade. Then in mid-tenth grade they reunited as pregnant teen friends. 
In the third chapter, Andicelebrated Katie's birthday.
Katie and Gigi
Gigi and Katie became friends in mid-tenth grade during their pregnancies. They seemed to be pretty close. Gigi was the one Katie opened up to about how she was feeling about giving her daughter up for adoption. Gigi comforted her and even said she believed Katie could have been a good mother and that she was very brave for making the tough decision of giving up her baby. Gigi was also the one who explained to Katie what would happen to her baby once it was born since the adoptive parents backed out last minute.
In the third chapter, Gigi celebrated Katie's birthday.
Katie and Kim
Sixth book: they celebrated their birthday together in chapter three.
Katie and Gracie 
"The worst thing that ever happened to me gave me the best thing that ever happened to me...you." Katie- Gracie
Katie had decided to give her daughter up for adoption and found a loving couple to adopt her. She did start regretting her decision however knew it was what was best for the baby. Katie didn't know what to do when the adoptive parents backed just days before Gracie was born. Gigi told her the baby would be placed in foster care if she gave her up at the hospital with no new family. However when she met the baby girl Katie just wasn't able to give her up and decided to keep her. 
In the second book Katie and her daughter Gracie had a very strong bond and relationship. It was a big and hard adjustment for them to be apart while Gracie was at the Academy. However Katie came to visit her as often as she could. It seemed to be even harder for them to be apart after the Christmas vacation. Gracie never told her mother that she was being bullied at the Academy by Morgan, and that was because she didn't want her mother to worry about her.
Sixth book: In the second chapter, Gracie had started being very clingy towards her mother. Katie was concerned especially since Gracie wouldn't tell her what was bothering her. At the end of the chapter, Gracie revealed she was scared of losing her mother- it had just hit her that her grandparents were dead. Katie promised she wasn't going anywhere anytime soon and gave Gracie a tracking device that would let her know that she's alright or if something was wrong.
In the third chapter, Katie started getting on her back about not having sex as a teenager and even put her on the pill just in case. Gracie instantly stated she wasn't going to have sex and really wanted her mother to drop it. ​​​​​​​