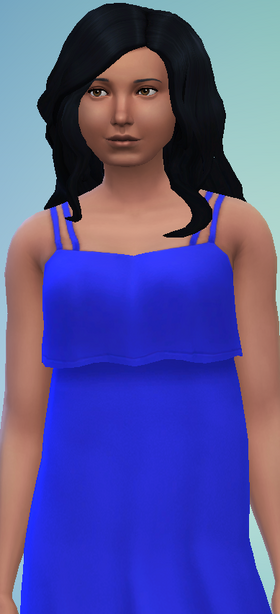 Kimberly Sanders
Basic information 
Born: August 1991
Species: Powerless-Witch
Relationship status- single
Life status- Alive
Other names
. Kim- by everyone
. Kimmy- by some people.
Parents
Cindy Sanders
Jonathan Sanders
Children 
Ben Sanders
Michelle- potential step-daughter
Romances
Weston Davis- x boyfriend
Married man- one date
Michelle's father- boyfriend
Friends
Andi- second best friend
Luke
Gigi
Katie- best friends
Emma 
Maddie
Program- guardian in training
Year- 4 (Graduated)
W.I.T.S- Sienna and Harris
Guardian of
Sienna Dale- Academy Guardian formerly
Harris Weatherman- Academy Guardian formerly
Shawn Rueda- Pernament guardian
Ben Sanders- Pernament guardian 
Shane Rueda- Temporary guardian
Occupation
Guardian 
Vet
Residence
Magic realm, W.I.T.S Academy- formerly
Mortal realm, New York formerly
Mortal realm, Miami, Florida currently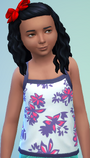 Background
Kim lived in New York her entire life but it didn't seem like she knew Katie back when they were kids. At fourteen she became a mother when her son Ben was born.

Every witch student: Welcome to the Academy
Basics
Kim was a new character introduced in the second book and overall wasn't a very important character. She was the Academy guardian of Sienna Dale and Harris Weatherman. Kim was mostly known as Ben's mother and Andi's friend/roommate because she didn't really have her own storyline. The closest she came to having one was being a guardian in training and the parts of her past that she shared with Andi.
Personality
Kim was a very sweet and patient person. Unless somebody wronged her little baby boy, then she had a temper that no would want to mess with. Good thing was, she was also easily forgiving.
Being a guardian in training
Kim started her guardian training in the first chapter. On her first day, she was given her students Sienna Dale and Harris Weathermen. In the second chapter, Kim scolded Sienna for being rude to two teenage girls who sat down with them. Kim then learned they were Sienna's older sisters and saw that they weren't very nice to her. Kim asked Harris if he had any siblings to get to know him better and learned he had a six-year-old little sister.
Events
In the third chapter, Kim met Harris's family on the first parent's day. Kim asked Sienna if she was going to meet her parents, Sienna replied it depended on how much butt-kissing Claire's teachers had to do. Sienna then introduced Kim to her younger siblings Mike and Hayley. Kim also met Emma and greeted her politely.
Kim learned about the mission to find and rescue Phillip the zombie in the fifth chapter when Andi shared the secret with her and Ben. She wanted to help but Andi told her the best help she and Ben could give was pretending not to know anything about it. However, in the eighth chapter, Andi allowed Kim to stay in the room when she was given a piece of paper with information on it by Ruby. The paper said all zombies but one had been destroyed but there was no information on the who and what of the non-destroyed one. Andi recalled Duggie had told her some zombies were turned into humans and asked how she'd find out who he was now if this was the case. Ruby told her that Duggie believed he was at the Academy. Andi pointed out that Luke was the only guy here that she and Ethan had gotten to know personally and that Aggie didn't stop them from talking or from hanging out. Kim suggested Aggie just didn't want to bring up suspicion. Andi disagreed because Aggie could have easily made a new rule that guardians couldn't befriend other guardians and teammates. Ruby agreed with Andi.
Relationships
Andi and Kim met in the first chapter as roommates. They introduced themselves to each other, and when Kim asked her if she was Ethan's mother, Andi seemed to have been a tad annoyed and offended, as she replied with, "yes, everyone knows I was a teen mom." Kim told her she understood how it was being known for being a teen mom because she had become a mother at the young age of fourteen. Andi then learned that her student Ben was Kim's son, and she told Kim this. Kim's reply was, "cool, it looks like he's in good hands."
In the fifth chapter, Andi couldn't stop thinking about what her son had told her about connecting with Luke. For some reason, it just really bothered her. Eventually, Andi gave up attempting to sleep her troubles away and talked to Kim about her concerns. Kim shared she had gone through something like this with Ben the second time his dad left. Kim had found out the adult Ben had connected with was actually his uncle on his dad's side. She shared that he had passed away about a year ago. Andi didn't tell Kim that her parents had passed away the same way when she had been small because she didn't feel close enough to her. Kim advised her to listen to the little voice in her head. Andi replied there was no way Luke was Ethan's uncle because she didn't have any siblings and was and may have been able to reveal something about Ethan's father but quickly said he couldn't possibly have siblings instead. Later in the chapter, with Ethan's permission, Andi finally told Kim and Ben about Ethan's father Phillip and the mission to find and bring him home. Kim and Ben wanted to help, but Andi said it was best if they pretended like they knew nothing about it.
Kim, for the most part, allowed Andi to look after Ben, but that didn't stop her from being his protective loving mother. In the second chapter, she forced Ben to have lunch with Andi and Jessie so he would start building his relationship with them.
Kim had most likely not seen her mother for at least a decade since it was mentioned that Ben had never met his grandmother. In the fifth chapter, Cindy surprised Kim by showing up at the Academy to visit her and Ben on parents day. Kim ran over to her for a hug and her mother told her to grow up. Kim apologized and replied she was just excited to see her. Cindy then offended Kim by telling her she had come to make sure she hadn't "killed her baby yet" Kim made it clear to her that her son was now ten-years-old and very much alive. Kim then introduced Ben to her and later introduced her to Sienna and Harris.

Every witch student: Remember me
Being a guardian in training
In the first chapter, Kim returned to the Academy to start the second year of her guardian training.
Times she was just around
In the third chapter, Kim was packing for the holidays and asked Andi what she hoped Ethan would get her for Christmas. Andi replied getting Phillip back was the perfect present and that in a way it was Ethan who had delivered. Kim told her that she and Ben were happy for her. Kim then continued packing while pretending to not be eaves dropping when Andi and Luke were talking