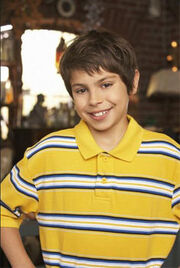 Michael Dale
Age 11
Birthday- Jan 2007
Species- full wizard
Relationship stauts- single
Life status- alive
Not missing
Family
Parents
Elizabeth Dale- older sister
Claire Dale- older
Sienna Dale- older sister
Hayley Dale- younger sister
Program- wizard in training
Year- first
Academy guardian- Dylan Owens
Teammate- Cassie Drake
Residence
Magic realm 
Every witch student: Welcome to the Academy
Mike was first introduced in the second book as the younger and only brother of Elizabeth, Claire and Sienna. He only appeared when he went with his parents to visit his three elder sisters. In the book he was nine-ten years old, his tenth birthday was mentioned when Sienna was writing him a letter. It was also mentioned he would start the academy the following School year.
Every witch student: Remember me
Personality
Mike was a shy kind boy who liked to stick with the people he trusted most.
Appearances
In chapter one Mike returned to the Academy as a regular recurring Character. In chapter one he began his magic training and education at the Academy. On his first day he was paired up with his Academy guardian and teammate. In chapter two Mike passed his first magic test.