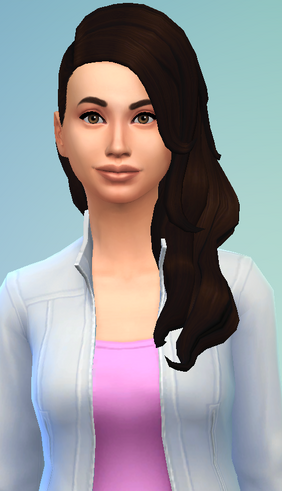 Melanie Rueda
Basic information
Birthdate: February fourteenth, 2005
Magical species: Full-Witch
LIfe status: Alive
Relationship status: dating secretly
Known as
Unknown birth name
Melanie Rueda- adoptive name/maiden name
Mel- nickname
Grandparents
Unnamed and unintroduced maternal and paternal biological grandparents.
Ava Rueda (adoptive paternal grandmother)
Drew Rueda (adoptive paternal grandfather)
Ursula Van-Pelt (adoptive maternal grandmother)
Alex Van-Pelt  (adoptive maternal grandfather)
Parents
Unnamed birth parents
Madelyn Rueda (adoptive mother)
Diego Rueda (adoptive father)
Aunts and uncles
Ruby Fletcher- adoptive paternal aunt
Gigi Ryland- adoptive paternal aunt
Sophie Van-Pelt- adoptive maternal aunt
Cameron Masters- adoptive paternal uncle by marriage
Tony Ryland- adoptive paternal uncle by marriage
Siblings
Emily Rueda (Younger adoptive sister)
Nieces and Nephews
Hope Archer- adoptive niece
Phillip Archer- adoptive nephew
Chance Archer- adoptive nephew
Cousins
Robert Ryland (by adoption)
Shawn Ryland (by adoption)
Sara Van-Pelt (by adoption)
Tommy Ryland (by adoption)
Isabella Masters (by adoption)
Anabella Masters (by adoption)
Noah Masters (by adoption)
Mason Masters (by adoption)
Gage Masters (by adoption)
Gabriella Masters (by adoption)
Pageant Ryland (by adoption)
First cousins once removed
Shane Ryland (By adoption)
Sami Van-Pelt (By adoption)
Romances
Robert Ryland- secret boyfriend
Friends
Robert Ryland
Tommy Ryland
Education
Unknown other schools
Iridium elementary school-  Feb 2017-  2019
Iridium high school- 2020- 2023
Occupation
Nothing
Residence
Mortal Realm
Miami
Background
Melanie was placed in the foster system when she was a baby. At age six she was being adopted by Maddie and Diego Rueda but went missing shortly before the adoption was supposed to be finalized.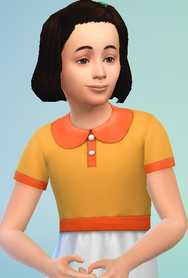 Every witch student: Welcome to the Academy
Basics
Melanie was a new character introduced in the second book. She had never been mentioned before the tenth chapter of the second book. She had apparently been found by Emma and was placed in a foster home while under observation. She was then reunited with couple who had been in the process of adopting her six years ago when she went missing. She was a reoccurring character.
Personality
Melanie was quite a mischievous tween with a taste for creativity. She enjoyed making inventions that always turned into disasters despite her efforts. Melanie seemed friendly and not much else was really known about who she was.
Mentions and appearances
In the ninth sister, Emily mentioned to Sienna that she was supposed to have a sister. Apparently, sometime during Emily's childhood, her parents had been in the process of adopting a child who had gone missing before the adoption could be completed. This child's name and age were not given in this Chapter.
Reuniting with her adoptive family
Six years after their almost adopted daughter had gone missing, Maddie and Diego are paid a visit by her social worker and informed she was alive and had been living in a foster home right in Miami for the past four months while being looked over by the chosen one, the council, mortal doctors, and magical doctors. It was mentioned Melanie had no memory of the six years she had been missing, and, on the ride to meet with her parents, Melanie cast a spell on herself to gain the knowledge a twelve-year-old should have. During their first meeting, Melanie asked her parents if they still wanted her despite her being only a year away from being a teenager. Maddie replied of course they still wanted her because she was their daughter and they loved her.
After being officially adopted, Melanie was thrown a party to celebrate her twelfth birthday and to welcome her to the family and she met all of her family members and most of the family friends. Melanie later moved in with her adoptive parents. Not long after, she was brought to the Academy to see her sister. Emily was beyond excited to be reunited with her and introduced her to everyone she knew at the Academy.
Every witch student: Remember me
Chapter one
Melanie was mentioned to be eating her breakfast at the dining room table in silence. She then accompanied her parents to the Academy to drop off her younger adoptive sister. Emily told Melanie not to have any fun while she was away, and Melanie sarcastically told her she wouldn't. though obviously didn't actually meant it.
Chapter three
Melanie had been mentioned to be at an open house at her school when Emily was picked up. She would have been in seventh grade at the time. She was then at the Novoa mansion with her parents and sister having supper with the friends of her parents and their children. Later in the chapter, Emily asked to spend time with her, so Melanie took her to her friends house. She was making plans on her next invention with the boys, a laundry sorter.
Chapter five
While having supper with his family along with his sister, Emma, and Andi, Diego asked Melanie how her day at school had been. Melanie groaned and rolled her eyes. Gigi remarked she was definitely a teenage girl and Diego teased her by replying that she would know. Gigi retaliated by punching shoulder playfully.