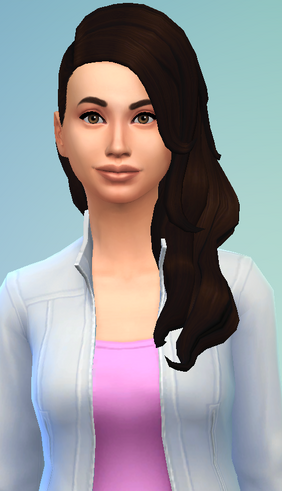 Melanie Rueda
Basic information
Age: 16
Birthdate: February fourteenth, 2005
Magical species: Full-Witch
LIfe status: Alive
Relationship status: in a secret relationship
Nicknames and other names
Mel- by a lot of people 
Grandparents
Ava Rueda
Drew Rueda
Ursula Van-Pelt 
Alex Van-Pelt 
Parents
Unnamed birth parents
Madelyn Rueda
Diego Rueda
Aunts and uncles
Ruby Fletcher
Gigi Rueda
Sophie Van-Pelt
Siblings
Emily Rueda (Adoptive younger sister)
Nieces and Nephews
Hope Archer
unborn child
Cousins
Robert Rueda (adoptive cousin)
Shawn Rueda (adoptive cousin)
Tommy Rueda (adoptive cousin)
Isabella Masters (adoptive cousin)
Anabella Masters (adoptive cousin)
Noah Masters (adoptive cousin)
Mason Masters (adoptive cousin)
Shane Rueda (first cousin once removed)
Romances
Robert Rueda (secret boyfriend)
Friends
Robert Rueda
Tommy Rueda
Education
Unknown other schools
Iridium elementary school-  Feb 2017-  2019
Iridium high school- 2020-
Occupation
Nothing
Residence
Mortal Realm
Miami
Introduction
Melanie Rueda was first introduced in the second book chapter ten. She was a child who was adopted into the Rueda family in her tween years.
Background
Melanie was placed in the foster system when she was a baby. At age six she was being adopted by Maddie and Diego Rueda but went missing shortly before the adoption was supposed to be finalized.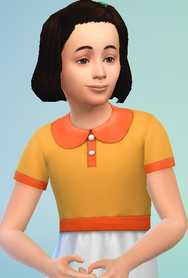 Every witch student: Welcome to the Academy
As she was reaching her twelfth birthday Melanie was found and placed in another foster home. She was soon reunited with the family who had been in the processes of adopting her before she went missing. She had several visitations with them and celebrated her 12th birthday with them. It wasn't long before it was learned she was very creative and loved inventing machines that had a reputation of being disastrous. She finally adopted and went home at the end of chapter ten.
Every witch teen: Secrets, Crushes, Struggles
"You set me up for boot-camp with grandma, you so don't get to hug me." Melanie- Maddie
Personality
Melanie frequently acted out and the reason for her behavior wasn't really discovered. It could have been caused by jealousy towards her pregnant sister over the amount of attention Emily was getting. Melanie also seemed to be feeling left out and forgotten by her family members- her parents specifically. She went on to presume a sexual relationship with the foster kid of her adoptive aunt. She even continued the relationship after he was adopted and became her cousin. Melanie went back and forth from treating her sister like crap to protecting and standing up for her.
Throughout the book
In the fifth chapter, Melanie surprised everyone when she stood up for Emily in class. In the seventh chapter, Melanie was punished for acting like a toddler by being treated like one. She was given a plastic toddler fork to eat the meat that her mother had cut up into little pieces for her.
In the tenth chapter, Melanie had a birthday supper with her secret boyfriend Robert and best friend Tommy after her entire family had forgotten her birthday. Melanie told them that she had also cast a spell on her family to make them believe they had celebrated her birthday because she didn't want to celebrate with them knowing they had forgotten. In the twelfth chapter, Melanie was sent to live with her paternal grandfather during her entire spring break to be straightened out by her grandmother. He behavior did seem to improve.
In the thirteenth chapter, Melanie was expelled from school for punching a girl and breaking her nose. She had committed the crime to defend her younger sister Emily. Melanie was back in school the following chapter and didn't receive any further punishments. It wasn't explained how Melanie had been un-expelled but we can assume Ava carried out the plan she had shared with Melanie's parents.
Relationships
Melanie and Alex
Sixth book:
Melanie and Ava
Sixth book: Ava didn't take Melanie's crap.
Melanie and Maddie
Sixth book: In the sixth book, Melanie and Maddie had a rocky relationship. In the first chapter, Melanie argued with her mother that she needed to let Emily and Ethan made the decisions about the baby on their own. Melanie pointed out to her mother that she hadn't listened to her mother's advice when she had been a pregnant teenage girl either.
Melanie and Diego
Sixth book:
Melanie and Robert 
"I guess I didn't want to celebrate with them knowing they forgot." Melanie- Robert
Melanie and Robert met when they became foster siblings. They soon became close friends and started creating crazy disastrous inventions together along with Tommy. Melanie also attended the same school as Robert and they were in the same class and grade.
Melanie and Emily
"Emily is my sister and I should have never treated her like she's not." Melanie to her family
Melanie met her sister Emily in February 2017. Emily had been very excited to meet her. However, through the remainder of the second book, they didn't have much of a relationship. 
Sixth book: In the second chapter, Melanie wasn't happy knowing she'd have to attend school with Emily because she worried about being teased and bullied because of her teen mom sister.
Melanie and Tommy
Melanie and Tommy met when they became foster siblings. They soon became close friends and started creating crazy disastrous inventions together along with Robert. Melanie also attended the same school as Tommy though were not in the same grade since Tommy is four years younger than Melanie and his brother. 
Melanie and Hope
Sixth book:
Quotes
Secrets, crushes, struggles
"Mom, Emily and Ethan are the parents, so shouldn't they make the decisions about these things?" Melanie- Maddie
"First of all I was the one adopted not Emily and second of all I don't use the word adoptive. Emily is my sister!"
"Emily is my sister and I should have never treated her like she's not." Melanie to her family
"I guess I didn't want to celebrate with them knowing they forgot." Melanie- Robert
"You set me up for boot-camp with grandma, you so don't get to hug me." Melanie- Maddie