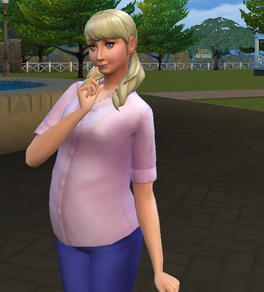 Sara Van-Pelt
Age: 15
Born- April 13th, 2006
Species- Powerless-Witch
Life status- alive
Relationship status- single 
Family
Mr. and Mrs. Lauren- adoptive parents
Sophie Van-Pelt- bio mom
Beau- bio dad
Romances Random guy who tried to rape her 
Every witch teen: Secrets, Crushes Struggles.
"Please, like I care what some stupid mortals think about me." Sara- Emily
Personality
Sara was rather well-behaved and not very adventurous. She didn't mind lending a hand and was pretty friendly and kind. When she lost her parents, she did go through a mini-depression but healed quickly.
Throughout the book
In the fifth chapter, Sara witnessed the murder of adoptive parents and called in the chosen one. Emma dropped her off at social services where she was picked up by her biological mother and placed in the temporary care of her aunt Maddie. In the following chapter, Sara was going through a depression but she did speak at her parent's funeral.
In the tenth chapter, Sara had gone on her first date and was almost raped. Luckily, she had been able to fight him off and escape. She told her aunt and pleaded with her not to tell anyone. Maddie dealt with it anyways. In chapter 12, Sara went to live with her biological mother Sophie and later on gained a relationship with her biological father. In chapter thirteen, Sara got into trouble at school for not completing a homework assignment even though she told her teacher it hadn't been done because she had been focusing on bonding with her parents. In the fourteenth chapter, Sara celebrated her fifteenth birthday.