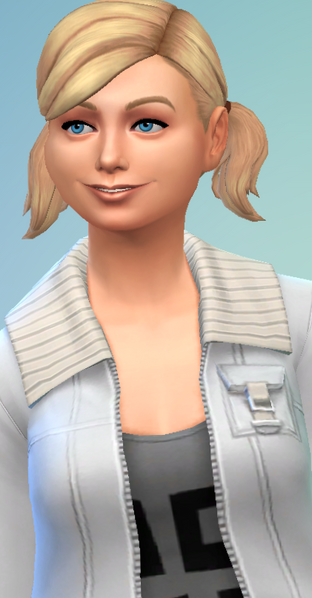 Sophie Van-Pelt
Born- June 20th, 1991
Original Species- Powerless-Witch 
Current species- Full-Witch
Relationship status- single
Life status- Alive
Grandparents
Walter Alonso (Maternal)
Anita Alonso (Maternal)
Parents
Alex Van-Pelt
Ursula Van-Pelt 
Aunts and Uncles 
Francisco Alonso (Maternal)
Maria Alonso+ (By marriage.)
Siblings
Madelyn Rueda- older sister
Ruby Masters- sister-in-law
Diego Rueda- brother-in-law
Gigi Ryland- sister-in-law
Nieces and Nephews
Melanie Rueda (adoptive niece)
Emily Rueda
Great nieces and nephews
Hope Archer
Phillip Archer
Chance Archer
Child
Sara Van-Pelt
Grandchild
Sami Van-Pelt
Romances
Beau- X boyfriend
Friends
Katie Rice
Diego Rueda
Guardian of
Melanie Rueda
Emily Rueda
School
Iridiuam elementray school (1995-2005)
Iridium high school (2005-2006)
W.I.T.S academy (2006- 2019)
Residence
Mortal Realm, Miami
Every witch pregnancy 
Sophie's underage pregnancy
Sophie hadn't been using protection during the three months she had been sexually active. Beau was forgetful when it came to supplying himself with condoms and Sophie really didn't care. Sophie found out she was pregnant in the first chapter and didn't really seem to understand. Maddie was screaming in joy for her and Sophie joined right in.
In the second chapter, Sophie informed the other girls that she and Beau were keeping the baby. Maddie pointed out that Beau hadn't agreed to keep the baby because he didn't even know Sophie was pregnant yet. Sophie told her boyfriend in this chapter and seemed to have taken the news rather well.
Sophie's mental issues
Sophie lived in her own alternative reality 90% of her waking hours. She saw things and people that weren't really there and wasn't aware of what was happening in real life. Her world was perfect. Sophie's issues had been caused by her father's abandonment when she had been just three-years-old.
In the first chapter, Sophie was talking to an empty chair that- in her world- was occupied by her father. She was telling her father about how excited she was to be starting ninth grade. In the second chapter, Ursula talked to Sophie to figure out how much Sophie understood about being pregnant. She learned that Sophie understood she was having a baby and that she would have to look after the baby but didn't seem to have any expectations of what motherhood would be like.
The birth of her daughter
Sophie welcomed a baby girl in the final chapter and barely got to hold her before she was picked up by her new parents. Sophie asked them what they were going to name her and found out the name was "Sara." She said she liked the name and was reminded of when she would get to have her visitations with Sara. Sophie took it very hard to watch her baby leave with other parents.
Every witch student: Welcome to the Academy ​​​​​​
Basics
Sophie was an extra character that was mentioned more than seen.
Personality
Sophie didn't seem like she was Sophie at all. She didn't seem to be affected by her mental issues anymore and was more than capable of having grown up conversations with her family members and friends. She was also more mature and she also seemed happier.
Mentions and appearances
In the first chapter, Andi asked Maddie if she had heard from Sophie. Maddie told her it had been a while and she hadn't received an update, so it was most likely that Sophie was still in India looking for their father. It wasn't mentioned how long she had been looking for Alex, but Maddie did tell Andi that the closest Sophie had gotten to their father was being in the same country. It also wasn't known why Sophie was looking for him.
Her first actual appearance in the second book was in the seventh chapter when she followed Maddie and Katie into the seven where Maddie announced she had a computerized plan to take over the world. Sophie then called her mom to come collect Maddie from the Seven after Maddie was tied to a chair. It wasn't known why Sophie was back in Miami during the bad moon. It most likely wasn't because of the bad moon since, being a Powerless-Witch, she was immune to the bad moon.
Sophie came home for Christmas Eve and Christmas day to visit her mother and sister, and also to visit her daughter as Christmas Eve was one of the two days in the year Sophie got to see her. She was present at her mother's Christmas Eve party, during which, she told Diego when asked her that she hadn't had any luck looking for her dad in China and was thinking of looking for him in England. It wasn't known how Sophie was getting around the world without magic, nor was it known how Sophie even knew what part of the world her father was each time he moved on.

Every witch student: Remember me
Chapter three
Sophie came home to visit her daughter Sara for Christmas and attended her mother's Christmas eve party.