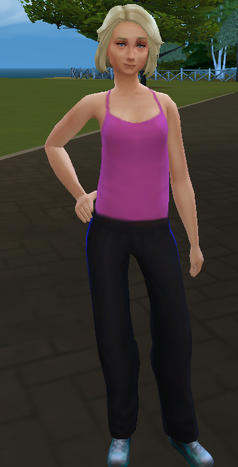 Sophie Van-Pelt
Age- 30
Born- June 20th, 1991
Species- powerless witch formerly
Full-witch currently
Status- single
Life status- Alive
Family
Maternal grandfather- Walter Alonso
Maternal grandmother- Anita Alonso
Father- Alex Van-Pelt
Mother- Ursula Van-Pelt 
Maternal uncle- Francisco Alonso
Maternal aunt- Maria Alonso+ Daughter- Sara Van-Pelt
Big sister- Maddie Van-Pelt
First cousin- Emma Alonso 
Daughter- Sara Lauren
Niece- Emily Rueda
Niece by adoption- Melanie Rueda
Unborn great niece
First cousin once removed- Jessie Novoa
Romances
Beau- X boyfriend
Friends
Katie Rice
Diego Rueda
Guardian of
Unknown
Enemies
School
Iridium high school (2005-2006)
W.I.T.S academy (2006- 2019)
Residence
. Mortal Realm
. Miami
Basic information Sara Lauren was born to a teenage mentally challenged powerless witch named Sophie Van-Pelt, and a teenage mute mortal named Beau. The day she was born she was given to her adoptive parents Mr. and Mrs. Lauren.
Sara was born in the last chapter of every witch pregnancy. She was born on April 13th 2006 at a hospital in Miami around noon. She was the second of the babies to be born. She greeted by her birth mother and birth maternal grandmother, and then was given to her adoptive parents who brought her home.
Every witch teen: Secrets, Crushes, Struggles
Personality
Sophie was said to still be battling her mental illness and would always be battling it. In the sixth book, Sophie was much more aware of what was going on around her. She didn't shut down anymore and enter "Sophie's world." She kept her mind busy for the first few chapters by searching for her father. Once her mission had been completed she jumped into parenthood when she regained custody of her biological teenage daughter. She was often clueless on how to be a mother and did what she could- and that was her best. Sophie also showed that she's a very compassionate person and is also very trusting.
Appearances
Sophie spent a good portion of the book searching for her father. In the fifth chapter, Sophie learned that her biological daughter Sara had lost her adoptive parents. She had a chance to regain custody but since she was still searching for her father, she arranged for her sister Maddie to take her in until she could. In the following chapter, Sophie took Sara to the funeral and then continued the search for her father. Also in the fifth chapter, Sophie became a full-Witch when her cousin Emma gave her magic.
In the eleventh chapter, Sophie brought her father back to Miami and reunited him with Maddie. She was looking forward to reconnecting with him and even introduced him to her daughter. In the twelfth chapter, Sophie found herself an apartment and regained custody of her daughter.

Relationships
Sophie and Ursula
Sixth book: Ursula and Sophie's relationship hadn't changed all the much, though they did have more grown up conversation than they had in the previous books. In the second chapter, Sophie knew something was bugging her mother simply because Ursula was sitting at the table without any food or drinks in front of her, and Sophie also knew what it was bugging her mother.
Sophie and Alex
Sixth book:
Sophie and Francisco
Sixth book:
Sophie and Maddie
Sixth book: these two were still very close and hung out often. In the first chapter, Maddie greeted her sister excitedly at the party and wished her a happy birthday. In the second chapter, Maddie was confused about why her mother was angry, Sophie leaned over to her and gave her the reason. Then, when Sophie said she had to get going, Maddie replied that she wasn't going anywhere without a hug.
Sophie and Emma
Sixth book: Emma and Sophie became a little closer but not by much.
Sophie and Beau
Sixth book:
Sophie and Melanie
Sixth book:
Sophie and Sara
Sixth book: In the first chapter, Sophie had wanted to take Sara to the graduation party but was unable too because Sara was away camping with her adoptive parents. She would have been able to take her if she had told Sara's adoptive parents sooner.
Sophie and Emily
Sixth book: In the first chapter, it was revealed that Sophie hadn't know nor noticed that her teenage niece was pregnant- even though Emily was already seven months along in the pregnancy.
Sophie and Hope
Sixth book: