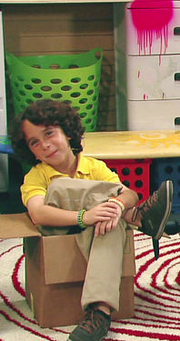 Thomas Miller
​Age- nine
Birthday- March 2009
Species- mortal
Relationship status- single
Life status- Alive
Nick name- Tommy
Family
Birth family
Daniel Miller- adoptive father
Robert Miller- older brother
Friends
Melanie Rueda 
Grade: 3
Residence
Mortal realm
Miami
Every witch student- Welcome to the Academy
Personality
Tommy seemed kind and was very smart. He loved making crazy inventions with his friend Melanie and older brother Robert.
Tommy was first introduced in the series later in the second book. He was a foster brother of Melanie who was about to move in with his new adopted family alongside his older brother Robert. Not only was he Melanie's foster brother, he was also her friend though younger than her. Tommy only appeared in the one chapter in the second book, and he was 7-8 years old.
Every witch student: Remember me
Returning to the series in the third book, Tommy was eight years old and only appeared once. His only appearance was in the third chapter. He was with his brother, Emily and Melanie, in the basement of his house working on the blue prints for a laundry sorter, his latest invention. He disagreed with his brother that this was their best invention yet, since he believed that tittle belonged to their homework destroyer.